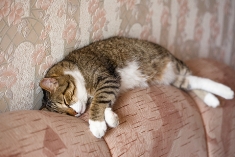 When you're away from the house and kitty's on his own, he may get bored and lonely. But you can go a long way toward preventing that by making kitty's surroundings interesting and rewarding while he has the place to himself.
Yes, your cat may conform to your schedule somewhat and take long naps while you're at work or school, but when he wakes up to an empty house, your advance planning can make a big difference in his mood and level of mental and physical activity in those circumstances.
Set up a bird feeder and bird bath near (but not too near) one of kitty's favorite windows. Be sure to learn about keeping bird baths and feeding stations clean, so you'll be providing a service for the birds rather than putting their health at risk. Your cat will enjoy watching the activity at those places. Even if resourceful squirrels end up eating a lot of the seed, kitty won't mind.
Certain trees and shrubs do a very good job of attracting birds and squirrels—all the more entertaining for your keen feline observer. You can also buy or build birdhouses and nesting boxes that attract feathered residents. Set up bird nesting and feeding areas several feet or more away from kitty's viewing windows, and both birds and cat will be less frustrated.
Start with an enriched and accommodating environment for your cat. Kitty should have scratching posts (the more, and the more variety, the better), perches for viewing or napping (or both), and hiding places.
To continue reading, please visit CatHealth.com
Disclaimer: This website is not intended to replace professional consultation, diagnosis, or treatment by a licensed veterinarian. If you require any veterinary related advice, contact your veterinarian promptly. Information at SuperHappyPets.com is exclusively of a general reference nature. Do not disregard veterinary advice or delay treatment as a result of accessing information at this site.