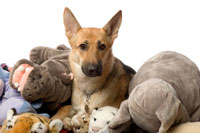 Dog treats under the seat cushions? Furry dog toys beneath your favorite tee shirt in the corner of the laundry room? Tennis balls buried under the rose bushes? Kibble stuffed under the dog bed? You probably don't have little gremlins at home. What you do have is a dog who is hoarding.
Uh oh! Is that normal?
Absolutely! It's instinct.
To continue reading, please visit DogHealth.com
Disclaimer: This website is not intended to replace professional consultation, diagnosis, or treatment by a licensed veterinarian. If you require any veterinary related advice, contact your veterinarian promptly. Information at SuperHappyPets.com is exclusively of a general reference nature. Do not disregard veterinary advice or delay treatment as a result of accessing information at this site.