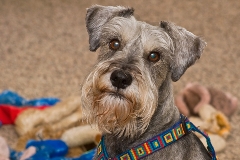 There are several ways you can help to ensure that your dog is feeling happy and staying active while you and your family are away during the day.
Do Some Fun Activities With Your Dog Before You Leave the House
Take a walk. Try making some time in your routine for a walk together before you leave for work or the kids go to school. That way both dog and humans will be getting exercise and you'll be spending some quality time together.

Play together. If there isn't enough time to go on a walk in the morning, try having a play session before you leave the house. You can give your dog some exercise and tire her out so she'll spend at least part of the rest of the day relaxing until you return.
Enhance Your Dog's Home Environment
Introduce a new toy. A new toy can add some excitement during the day while your dog is home alone. A tough chew toy that can't be torn apart while you're gone is best, just in case your dog likes to gobble things up. Also rotate toys: After a day or two, put one toy away so it's out of sight and mind, and bring out another to replace it. This will keep all of your dog's toys fresh and exciting.

To continue reading, please visit DogHealth.com

Disclaimer: This website is not intended to replace professional consultation, diagnosis, or treatment by a licensed veterinarian. If you require any veterinary related advice, contact your veterinarian promptly. Information at SuperHappyPets.com is exclusively of a general reference nature. Do not disregard veterinary advice or delay treatment as a result of accessing information at this site.