By veterinarian Steve Thompson, DVM, DABVP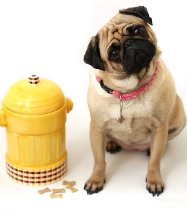 Dog urine and feces can often be a frustrating problem related to lawn care. Small amounts may produce a green-up or fertilizer effect while larger amounts often result in lawn burn or dead patches. While most burn spots will recover with time and regrowth, dead areas can be large enough in some cases to require reseeding or sodding. For homeowners who are also dog lovers, this can present a dilemma, particularly when one family member prefers the dog and another prefers a well-manicured lawn. An understanding of the interaction between dogs and the lawn can keep the yard (and family) at peace, not in pieces.
Understanding the Causes
The fundamental problem with the presence of urine or feces on the lawn is related to the nitrogen content and concentration of these waste products. Urine, when produced as a waste product in animals, primarily removes excess nitrogen from the body via the kidneys. Nitrogen waste products are the result of protein breakdown through normal bodily processes. Carnivores, including cats and dogs, have a significant protein requirement, and urine volume/production varies due to size and metabolism. Urine is a more serious problem for lawns because it is applied all at once as a liquid fertilizer, whereas feces slowly releases the waste products over time. Since stools are usually solid, owners have the option of frequent manual removal. With more time for the nitrogen waste to dissolve into the lawn, stools that are frequently removed damage lawns less than urine.
Young dogs of both sexes frequently squat to urinate. Leg lifting is often learned by male dogs around a year of age; castration or neutering does not seem to affect nature's timetable related to this behavior development. While most male dogs will hike their leg and mark once they are over a year of age, a few will continue to squat when urinating, which is more common in female dogs. Female dogs may also mark although less commonly than male dogs. Once dogs begin urine marking, they often utilize many and numerous scent posts resulting in numerous, small volume urinations rather than large volume puddles. Grass can handle small volume nitrogen bursts easier than fertilizer overload. Unfortunately, the young bush, shrub, vine or tree sprout that becomes a marking post may have nitrogen (fertilizer) overload with repeated marking and may die if continually "marked."
To continue reading, please visit DogHealth.com
Steve Thompson, DVM,
Diplomat ABVP (Canine/Feline specialty)
Clinical Associate Professor
Director - Pet Wellness Clinic
Companion Animal Medicine & Behavior
Veterinary Teaching Hospital
625 Harrison St
West Lafayette, Indiana 47907-1249

This e-mail address is being protected from spambots. You need JavaScript enabled to view it
Disclaimer: This website is not intended to replace professional consultation, diagnosis, or treatment by a licensed veterinarian. If you require any veterinary related advice, contact your veterinarian promptly. Information at SuperHappyPets.com is exclusively of a general reference nature. Do not disregard veterinary advice or delay treatment as a result of accessing information at this site.