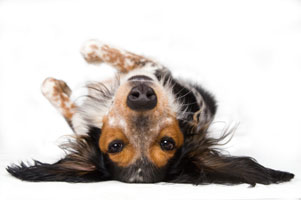 "Happiness is having a scratch for every itch."
- Ogden Nash
When you rub a dog's chest, side, or belly (the location can vary from dog to dog) it causes an itching sensation. This creates a nerve impulse that travels to the spinal cord, which in turn activates nerves that move the adjacent hind leg. The leg kicks rhythmically, as if to scratch the itch. The location and intensity of the itch dictates the location and intensity of the scratch. Amazingly, this response is all programmed within the spinal cord, and so is beyond the dog's conscious control. Vets and scientists can use the scratch reflex to assess nerve and spinal cord function. Dog owners use it to amaze their friends.
To continue reading, please visit DogHealth.com
Disclaimer: This website is not intended to replace professional consultation, diagnosis, or treatment by a licensed veterinarian. If you require any veterinary related advice, contact your veterinarian promptly. Information at SuperHappyPets.com is exclusively of a general reference nature. Do not disregard veterinary advice or delay treatment as a result of accessing information at this site.